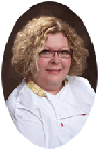 Kim's Creations … It's not Ordinary, it's Extraordinary!
Catering for All Occasions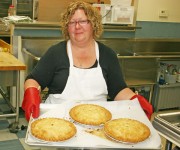 The secret ingredient is love. For some, that saying might be a cliche, but for Kim Clark of Kim's Creations – it's absolutely true.
Watching Clark work in the kitchen, it's obvious, her love of cooking and creating wonderful, savory dishes bubbles over.
"I just love to cook," she said. "There's no cuisine that I don't like to cook. I like experimenting with new flavours and new dishes. It excites me."
Kim's Creations is a catering company in Castlegar that caters almost everything from Rotary banquets to spaghetti feeds, weddings to gala events, city council events to corporate functions. Whether breakfasts, lunches, dinners, or desserts, Kim and her crew will make it delicious.
Clark started the business six years ago after moving to the area with her husband. She formerly lived on the Prairies where she worked in office jobs for Manitoba Telephones and Edmonton Telephones.
When she came to Castlegar with her husband she found there were not many jobs available so she started her own with Kim's Creations.
"I'd always cooked," she said. "I was quarter-master (head cook) for Girl Guides. Someone phoned and asked if I would cater for a funeral so I did that. It just evolved from there. It was a business that found me.
"It's been going good. Every year I get a little busier. I love it."
Clark has about five people who work for her company including right-hand woman Debbie Barens.
"She works for me almost full-time and we have several others that work as needed," said Clark.
Clark began her love of cooking at a young age. With two working parents, she was put in charge of cooking for her four younger siblings.
"I've always, always, always cooked," she said. "I'd come home after school when I was eight and have to make supper for the whole family. I've always cooked. I just love it."
Even after all these years, Clark still finds cooking rewarding.
"I find it relaxing," she said. "I like seeing people eating my food. I like people saying how they enjoy it. It's giving a little of myself to somebody."
For more, check out Kim's Creations at www.kimscreations.ca or call 250-304-5900.
By Craig Lindsay – Castlegar News
Published: November 16, 2011 11:00 AM
Updated: November 16, 2011 11:38 AM