Kim's Creations … It's not Ordinary, it's Extraordinary!
Catering for All Occasions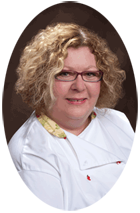 I have been cooking for people for as long as I can remember. When I cook for you, I give a little of myself, as I always cook from the heart.
Since I started catering, I have met many people, who like me, have a passion for food. They say love is an international language, but so is food. I started out slowly, and each year my business has grown to what it is now, a thriving catering company.
The Kootenays is a special place, as we like to eat local and fresh food when ever possible. I enjoy traveling around the area meeting new vendors and sampling their delicious food which I incorporate into new dishes. Every event, wedding, special occasion that I cook for, I do with passion and commitment, because when it Kim's Creations…It's not Ordinary, it's Extraordinary!
I truly enjoy cooking and find it to be very relaxing and comforting. I became a caterer by accident. As I said I have always cooked, being a member of many charitable organizations, I was in the kitchen cooking for all the events.
People would ask me to cook for a wedding or a function, and then the next thing I knew, I had a thriving business. The best business is the one that finds you. I am doing what I truly love and it shows in my cooking.
Kim's Creations is a winner for the Best of Business Award in the West Kootenays for Catering and Wedding Supplies in the last 12 consecutive years. Kim's Creations holds a current Business License, Level 2 Food Safe Certified, Liability Insurance, Serving it Right Certified and WCB. All documentation would be supplied upon request.